creation and interpretation by Aldo Rendina
support for the creation Federica Tardito



remotely inspired by P. I. Tchaikovsky's Swan Lake
some music from Swan Lake
re-musical elaboration Alessandro Achilli
lighting design Lucia Manghi
costumes Monica Di Pasqua
co-production Associazione Kado, Compagnia Tardito/Rendina, eUROPA tEATRI
Thanks to Erminia Meriano and Marco Rendina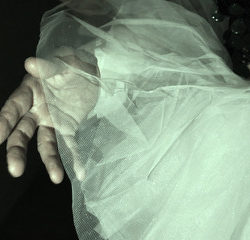 Swan, alone, locked in his room, hatching that need for fantastic, surreal. An approach to the "Swan Lake" as a motion to reborn faithful to any version. 
Everything was born on a hot summer afternoon, a fan, a music a dance in the living room, coming out of nowhere. All sorts of coincidences-signs have led me to meet Swan. Everything started from further away, in more overlapping summers, summer dreams remain warm longer.
A look at the work
I started from some elements around the piece "Swan Lake" without wanting to re-read it, following the path of a free approach. It's been a long hatching, a dimension which includes care, vigilance, the waiting for the hatching, trusting that it would speak the fruit of creation, trying not to channel its sprouts prematurely.
You can see a man giving space to something absurd, unusual. Sometimes innocence emerges, the childish part that plays over age, giving voice to more feelings, entering more rooms in our soul encountering the need to escape and rebellion. In the background a lake with a rippled and immortal surface.

Other ideas

 
A concrete and metaphorical dimensione, the threshold
is there
it gives us a sense of beginning sometimes it'a is a limit, sometimes it' not good to cross it.
Sometimes it asks us to stop, as if it were a collection point to coming to our senses before …
not to count the countless times we pass through it without being aware of it.