by Henk Barendregt and Mirjam Hartkamp
Italian translation by Antonino Raffone

inside the project cari maestri
by compagnia tardito/rendina

04 > 06 November 2022
Zoom / Online Platform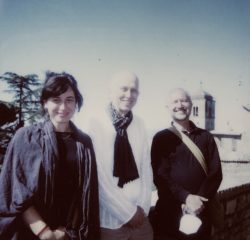 Vipassana Meditation online week end
The existential dance
The universe is a dance of many particles. This applies to the elementary particles of which the external things are made. More relevant is that it applies to our lives, where the particles are the everlasting phenomena out of which consciousness is built. When these phenomena come to us we react, sometimes too much, sometimes too little. In the retreat we develop the possibility to remain still in order not to react. Also we develop the possibility to act, overcoming hesitations. Step by step this will cast insight how to find the middle way to perform the existential dance.
The retreat will be given as a sequence of sitting and walking exercises of each 45 minutes in the style of Mahasi Sayadaw, together with instructions, Dhamma Talks about the theory, and Q&A sessions.
> Complete program and time here  < (the schedule is susceptible to variations)
Language English translated in Italian
Teachers Henk Barendregt and Mirjam Hartkamp
Italian translation Antonino Raffone
Cost 20,00 € (contribution to Kado Association, Zoom rental)
Dana The retreat is based on the dana (generosity) > More informations <
Reader  Instructions and theory 
Book (as possible preparation, nice books but not compulsory)
Nyanaponika Thera: The heart of Buddhist meditation.
> Registrations closed < Last possibility Monday 31.10.2022 at 20:00h CET
After registering you will receive a message of your acceptance within ten days. About one week before the retreat you will receive a final invitation and indications about the exercises and the fundamental theory. Online meetings can be followed on a laptop, tablet, or smartphone.
Henk Barendregt (1947) studied Mathematical Logic in 1971 at Utrecht University, where he received his PhD cum laude in 1971 under Dirk van Dalen and Georg Kreisel. His best known works in logic are The Lambda Calculus, Its Syntax and Semantics (translated into Russian and Chinese), 1981, Elsevier, and Lambda Calculus with Types, 2013, Cambridge University Press. Henk Barendregt studied from 1972 to 1979 Zen meditation with Kobun Chino Roshi (1938-2002) in California, and from 1977 to 2006 Vipasssana meditation with Phra Mettavihari (1942-2007) in the Netherlands. In 2006 he was qualified with 13 other senior students to teach vipassana in the style of Mahasi Sayadaw. Henk Barendregt has received substantial research funds from Nijmegen University (1997), the Spinoza award in 2002 from the Dutch National Science Foundation (NWO), and became in 2012 distinguished Lorentz fellow of the Netherlands Institute of Advanced Studies and Leiden University. Given funds enabeled him to direct an interdisciplinary research group towards understanding insight meditation and its effects in neuropsychological terms. Barendregt, Knight in the Order of the Nederlandse Leeuw (Dutch Lion), holds memberships of the Academia Europaea, the Koninklijke Hollandsche Maatschappij der Wetenschappen, and the Royal Dutch Academy of Sciences.
Mirjam Hartkamp is co-founder & director of IMI association (Insight Meditation Investigations) and meditation teacher with the Dutch Insight Meditation Society (SIM). She is meditation teacher in residence of the prestigious Dutch Comenius Institute, and holds yearly international several vipassana-based mindfulness retreats, also in collaborating with prof. Henk Barendregt.  Mirjam received her training in art-, and psychotherapy at Leiden University of Applied Science and the Dutch Academy for Psychotherapy. In addition, she studied Buddhist philosophy at University of Amsterdam and holds a master degree in Cognitive science. Mirjam is currently a PhD fellow at La Sapienza University of Rome, finishing doctoral research on the effects of meditation and is a reviewer for the Springer Journal of Mindfulness. In her teachings Mirjam emphasizes compassion and loving kindness, as a way to arrive to a state where we can be at ease and at peace with ourselves, in our relations and with life in general.
Antonino Raffone, Ph.D., completed a Ph.D. in Psychology at the Sapienza University of Rome, and the European Diploma in Cognitive and Brain Sciences. He holds a position of Associate Professor at the Department of Psychology of the Sapienza University of Rome. Both research and teaching of Dr. Raffone are mainly focused on consciousness, attention and mindfulness, and their neural correlates, with different methods of investigation. Dr. Raffone has been author of several international research articles on these topics and related aspects, including publications in the "Journal of Cognitive Neuroscience", "Psychological Review", and "Consciousness and Cognition". In particular, he has edited a theme issue of "Philosophical Transactions of the Royal Society B" on perceptual awareness. Antonino Raffone is active in promoting practice of mindfulness and meditation in several contexts, including prisons, and related research. He has organized several national and international events about mindfulness, and directs the Master in "Mindfulness: Practice, Clinical Applications and Neuroscience" at the Sapienza University of Rome. Dr. Raffone started to study and practice Buddhism and meditation in 2004 with Prof. Peter Harvey, and then became a dedicated Soto Zen Buddhist practitioner (with Ven. Dario Doshin Girolami), tradition in which he received a lay ordination in 2009. He assists Henk Barendregt in Vipassana meditation retreats.