with and by Federica Tardito
support to the creation Aldo Rendina



Freely based on the character Sonja from the piece Uncle Vanja by Anton Cechov
light design Lucia Manghi
musical advise Michele Anelli
image projected Pietro Bologna
costumes Monica Di Pasqua
production compagnia tardito/rendina
coproduction Sosta Palmizi and Arbalete
with the support of Europa Teatri, Compagnia Zerogrammi and Arte in Movimento
Award winning project AiR – Artists in Residency 2020 by Lavanderia a Vapore
Special thanks to Danio Manfredini, Doriana Crema, to Raffaella Giordano' soft breath, to the inexhaustible availability of Antonio Rendina and to the complicity of Carlo Cantono and Massimo Vesco.
anno di produzione productions 2020/2021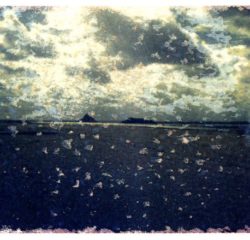 I felt touched by the character of Sonja as if this female soul resounded deeply in me, a strange feeling of amazement and closeness. With a little of tragicomic courage I move my first steps towards her missed desires figure, with the gaze turned towards the sky. Moved by a desire for levity, I see a very thin and suspended vein, poised, between the longing for the sublime and its inevitable hitch.
A subjective about the character of Sonja, a journey which takes place between the written pages of Uncle Vanja by Anton Chekhov. The scene evokes the world of a woman, with delicate and blue motions of the soul and unrequited love. The character, stops at the threshold of the narrative, taking distance to get closer to the inner dimension giving voice to the invisible part. To let emerge the unknown wonder of the unexpressed.
Places where Sonja has played