unconventional spaces version
project by Federica Tardito and Aldo Rendina
with Aldo Rendina' Federica Tardito
and Riccardo Maffiotti/Antonio Villella
music Bach' Mozart' Satie' Madonna
costumes Roberta Vacchetta
lights Lucia Manghi
co-productions Torinodanza' Drodesera>Centrale Fies and compagnia tardito/rendina
with the support of Associazione Sosta Palmizi/MiBAC
special tank to Marina Borruso and Doriana Crema
anno di produzione productions 2005
45 minutes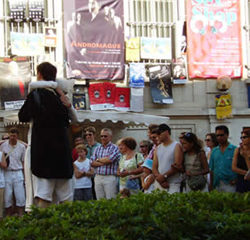 Three faded clowns, in a delirious and funny circus, are gambling everything to gain the centre of attention.
From a look at the mechanisms man puts into action to make people love him' to be the centre of attention' one enters with lightness and detachment the tragedies everybody lives' showing the pretexts and the lies created by the not understood victim.
A not narrative but a circular writing' which uses a language hovering between the tragic and the grotesque' a bit exaggerated and clownish.
Places where Circhio Lume has played for unconventional spaces version
27

August

2017

Circhio Lume

/

Salti in Piazza / Viarigi (AT)

15 July 2015 Insolito Festival T. delle Briciole / Parma
8 July 2015 Chianti Festival / Castellina in Chianti (SI) – F.T.S.
14 June 2015 Festival Concentrico / Carpi (MO)
26 April 2015 Made in Piemonte / Varallo (VC)
18 February 2012 Chapiteau in città – Settimana del Circo contemporaneo del Teatro Pubblico Pugliese / Putignano (BA)
9 October 2011 Festival di Teatro e Circo – CIRK FANTASIK / Firenze
10 July 2011 Festival INPIAZZO / PIAZZOFF di Stalker Teatro / Biella
10 > 12 June 2011 Festival Internazionale di Teatro Urbano Mirabilia / Fossano (CN)
12 September 2008 Teatro delle Ariette / Castello di Serravalle (BO)
16 > 17 October 2007 VIE Scena Contemporanea Festival / Modena
6 > 8 September 2007 Festival La Luna nel Pozzo / Caorle (VE)
24 July 2007 Esteuropaovest / Montecorsaro (MC)
22 June 2007 Il Giardino delle Esperidi / Ello (LC)
10 February 2007 Diversa/mente/teatro / Mantova
12 > 14 August 2006 Musicalarue / Luxey (Francia)
8 August 2005 Visioni / Monte S. Savino (AR)
5 August 2005 Il grande fiume / Castelvetro Piacentino (PC)
20 July 2005 Lo spettacolo della montagna / Chiusa di S. Michele (TO)
3 June 2005 Tra cielo e terra / Montefalco (PG)
16 September 2005 Torino Contemporanea / Torino
6 July 2005 Segnali all'orizzonte / Padova
25 June 2005 Teatri senza Teatro / Torino